Let's face it, it's cold outside and Christmas is over. We all want nourishing, comforting food at this time of year. Well, this shepherd-less pie is just the thing to satisfy your comfort cravings. Vegan and gluten-free too and all the ingredients are available plastic free. This will make enough pie for 6 hungry people or 8 more moderately sized portions.
Ingredients
6-8 medium potatoes (mix of sweet potatoes and white)
Cashew nut milk
1 onion
3 cloves of garlic
2 carrots
1 heaped tablespoon of coriander seeds
1 heaped tablespoon of thyme
12 sun dried tomatoes
3 tablespoons of balsamic vinegar – refill in store
2 heaped tablespoons of vegetable bouillon
200g dried French lentils
200g dried chickpeas (these take a while to cook so leave yourself plenty of time)
1 heaped tablespoon of dried parsley
Method
There are two way to cook the chickpeas in preparation for this recipe. I put them in the slow cooker in the morning without soaking and they are perfect for cooking by the time we have tea. Alternatively, you could soak them overnight then boil them for 2 hours before starting the recipe. Either way, I usually cook up more than I need and pop some in the fridge or freezer ready for next time.
Preheat the oven to 200 degrees.
Scrub the potatoes and chop into chunks. Put these in a saucepan with plenty of boiling water. Boil until soft enough to mash while you start on the filling.
Heat a tablespoon of oil in a saucepan. Finely chop the onion and garlic cloves and add to the pan. Fry until the onion is soft. Slice the carrots into thin rounds and add to the onions. Roughly bash the coriander seeds in a pestle and mortar and add to the saucepan. Chop the sun dried tomatoes roughly and add to the pan, along with the balsamic vinegar and a drizzle of oil from the jar of tomatoes. Leave for 5 minutes to heat through, stirring all the time.
Add the vegetable bouillon, lentils and cooked chickpeas (include some of the chickpea cooking water as this helps thicken the sauce) and enough boiling water to not quite cover the ingredients. Leave to cook for at least 20 minutes or until the sauce has thickened. Add the parsley and some salt and pepper to taste.
Once the potatoes are soft, drain and return to the saucepan. Add some salt and pepper and plenty of cashew nut milk. Mash until you have a smooth, creamy consistency.
Transfer the lentil/chickpea mix to a large casserole dish. Top with the mashed potato. Drizzle over some rapeseed oil to help the top crisp up. Cook in the preheated oven for 25 minutes while you do whatever other vegetables you fancy with the meal (we did crispy garlic fried kale and steamed cauliflower).
Enjoy your nutrient packed dinner and feel smug. 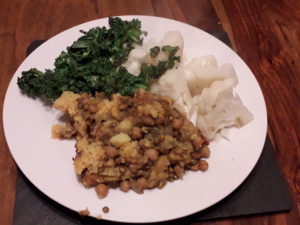 We always make loads of this pie and freeze some for easy ready meals in the week.
---