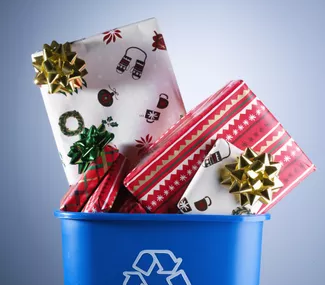 Merry After-Christmas and Happy New Year everyone!
For us, Christmas is the season to spend quality time with friends and family (and to eat copious amounts of chocolate :P) but it also includes the chance to give loved ones gifts and to receive ones in return. Hopefully, you have all received delightful and enchanting gifts this festive season, but perhaps there are one or two which you aren't quite sure whether you will use. According to figures released by Ziffit.com, around 60% of people in the UK expect to receive unwanted gifts, amounting to around 81 million unwanted items every year. One in 10 of these unwanted gifts is expected to end up in landfill.
What to do about unwanted presents is fraught with difficulty but throwing them in the bin is definitely not the answer. Presents are given to bring the recipient joy, provide some use or fulfil a purpose and I think some of the best gifts I have receive are those which remind me of a loved one or which fill a gap in my life. If by keeping an unwanted gift you are constantly feeling guilty then something has gone wrong. In the ideal world of course, we would only receive items which enrich our lives. In reality, I suspect I am not the only one for whom this is not the case. This article aims to give some ideas of what to do with any gifts which are perhaps not best suited to you.
1. Return or exchange them
Technically, most shops don't have to refund an item unless it is faulty or not as described (as per this useful article by Which). Thankfully, most retailers have a 'goodwill' policy whereby they will offer a return or refund on gifts. However, you will need some sort of proof of purchase, whether this be a gift receipt or bank statement showing when it was bought. Most people will genuinely want you to have a gift which you like and will be happy to change it, but it can be a delicate discussion to have so beware of hurting others' feelings. Ultimately, this route means items will be resold to someone who does want them while you can choose something which you can actually use. No waste at all.
2. Sell it
Again, this is a pretty good solution for most of us and means the gift giver may never know. On the downside, if the gift giver does not know, they might get you something similar in future. Sometimes it is best to have that awkward discussion with people. Places like Ebay and Gumtree are great for re-selling. Incidentally, if you are shopping for someone with a birthday in January, they are also great places to get good quality second hand gifts.
3. Arrange a gift swap
I love this idea as it encourages us to spend more time with friends and family which I feel is so important. You could arrange a gift swap between any group of people, it could be a group of friends, a community group, or at a school or work. These are great ways to exchange items and, if you didn't manage to get rid of your unwanted gift, you still have all the other options on this list to go through.
4. Re-gift
This probably only works for particular gifts but if you know of someone who will definitely like your unwanted item then re-gift it to them. Gifts should be about whether the recipient will like the item, not about how much you spend so I don't think anyone should feel guilty giving a gift if they believe the recipient will like it, whether it is expensive or not.
5. Donate it
Donations to charity shops help raise much needed funds for great causes and mean items can be sold to someone who actually wants them. Make sure to check whether the charity shop will take your item though, as some won't accept electricals or other goods. The British Red Cross have a handy webpage listing what they will not take. Charity shops aren't the only places which receive donations. You could also try homeless shelters, schools, libraries or hospitals.
Ultimately, the best answer to the unwanted gift problem is to do your best to avoid receiving any. Provide loved ones with a list or ideas. Manage their expectations regarding what you will do with unwanted gifts. Have frank and open discussions about presents. And remember, the best thing about Christmas, is that it provides an excuse to meet up with people you love and who are important to you, not about what you necessarily give or receive.
---